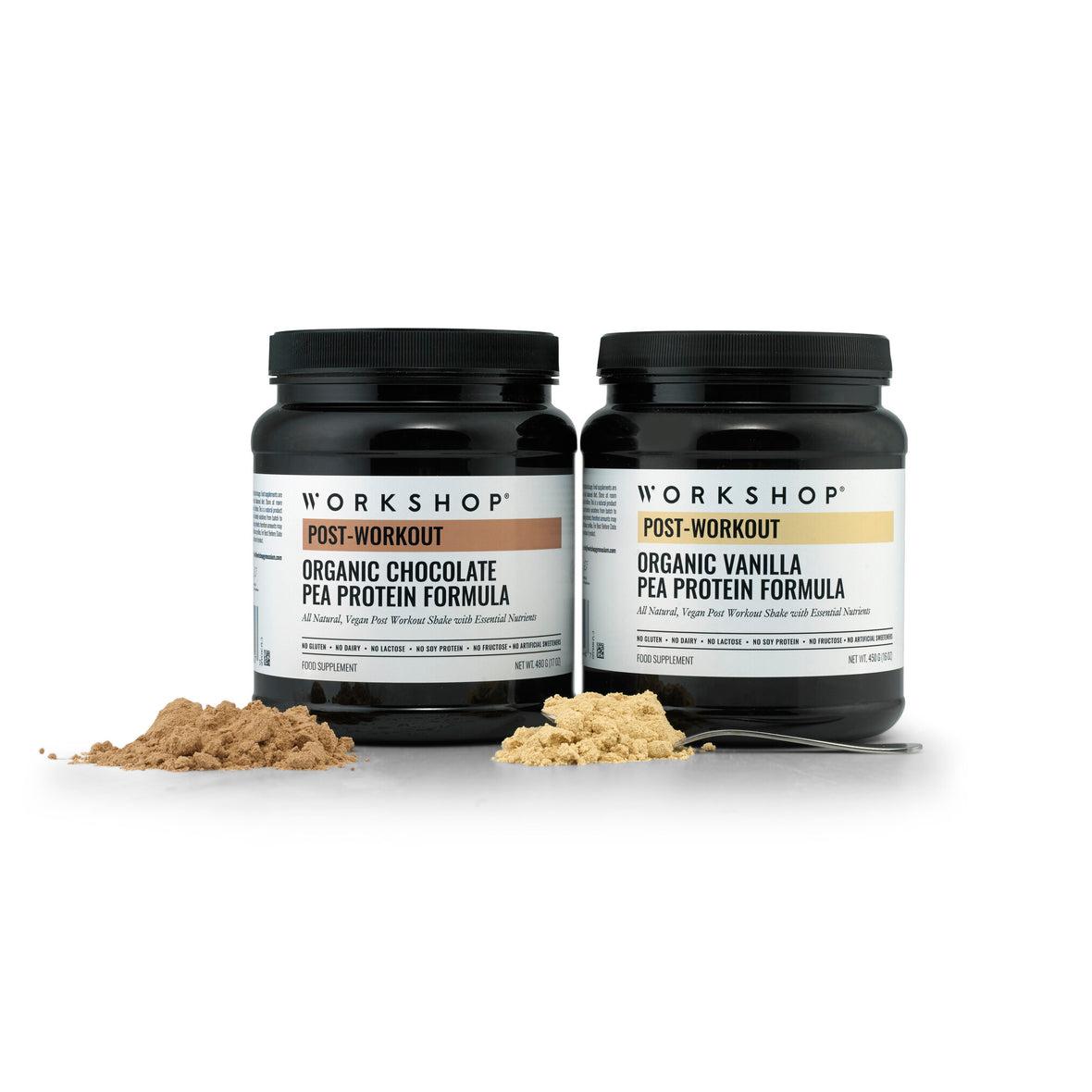 How to Use Our Organic Pea Protein Formulas
At Workshop we pride ourselves on having what we think are some of the best, purest protein formulas out there. Other than a touch of stevia for a natural hint of sweetness, our Organic Pea Protein Formulas contain fermented yellow peas and nothing else. So, as well as being a great, clean source of high protein that's free from unnecessary fillers, additives and anything else – and perfect for your morning smoothie or shake ­– the formulas are also easy and versatile to use in a variety of other ways. Take a look through some of our favourite ways to use them and thank us later.
Vanilla protein pancakes
No long, lazy weekend breakfast is complete without a generous stack of delicious pancakes and the addition of our Organic Vanilla Pea Protein Formula takes these to a whole other level. Into a bowl add two scoops, then add one mashed banana, a cup of ground oats for sustained energy release, one egg and a tablespoon of ground flaxseed for a healthy dose of omega-3. Mix well and spoon into a lightly greased frying pan to cook. Serve with a dollop of plain yoghurt, a handful of fresh berries and a drizzle of maple syrup if you fancy.
Chocolate banana protein muffins
Perfect as a breakfast option or an on-the-go snack, these muffins are packed full of protein, healthy fats and complex carbs. In a bowl, mash one ripe banana with two eggs, two cups of rolled oats, 2 tsp baking powder, two scoops of organic chocolate protein powder, one tsp vanilla extract and one cup of plain yoghurt. Mix together then scoop into muffin cases and bake in a preheated oven at 200° for 15-20 minutes then leave to cool on a wire rack.
Vanilla protein cookies
If you're craving something sweet but want to stay on track, then a tray of protein cookies warm from the oven will really hit the spot. To whip up a batch of the simplest cookie dough, mix together half a cup of a nut butter of your choice, tablespoons of coconut sugar for a little sweetness, two scoops of Organic Vanilla Protein Powder and an egg and blend until you have a dough like consistency, adding more of the above as needed. Bake in a preheated oven at 200° for 8-10 then leave to cool on a wire rack. Serve warm.